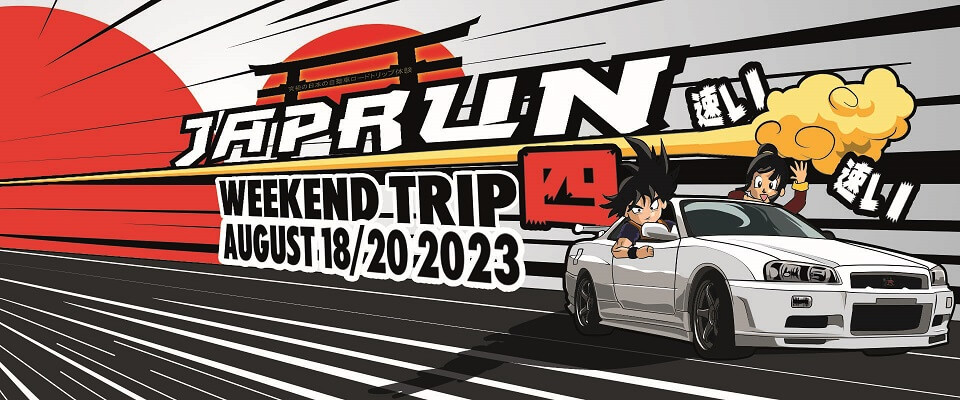 As an extention of the JAPRUN Daytrip, we also provide JAPRUN Weekendtrip, a three-day tour that takes participants across multiple countries. The weekend trip is just as fully organized as the daytrip, with all meals, hotels, and activities taken care of. With a smaller number of participants, the weekend trip offers a more intimate experience of this ultimate Japanese car roadtrip experience! Driving with a group of likeminded car enthusiast trough mindblowing landscapes, breathtaking views and following epic routes! Next to the driving we will make sure these days are filled with more cool car related activies! Don't hesitate to join and create the coolest memories that you'll never forget!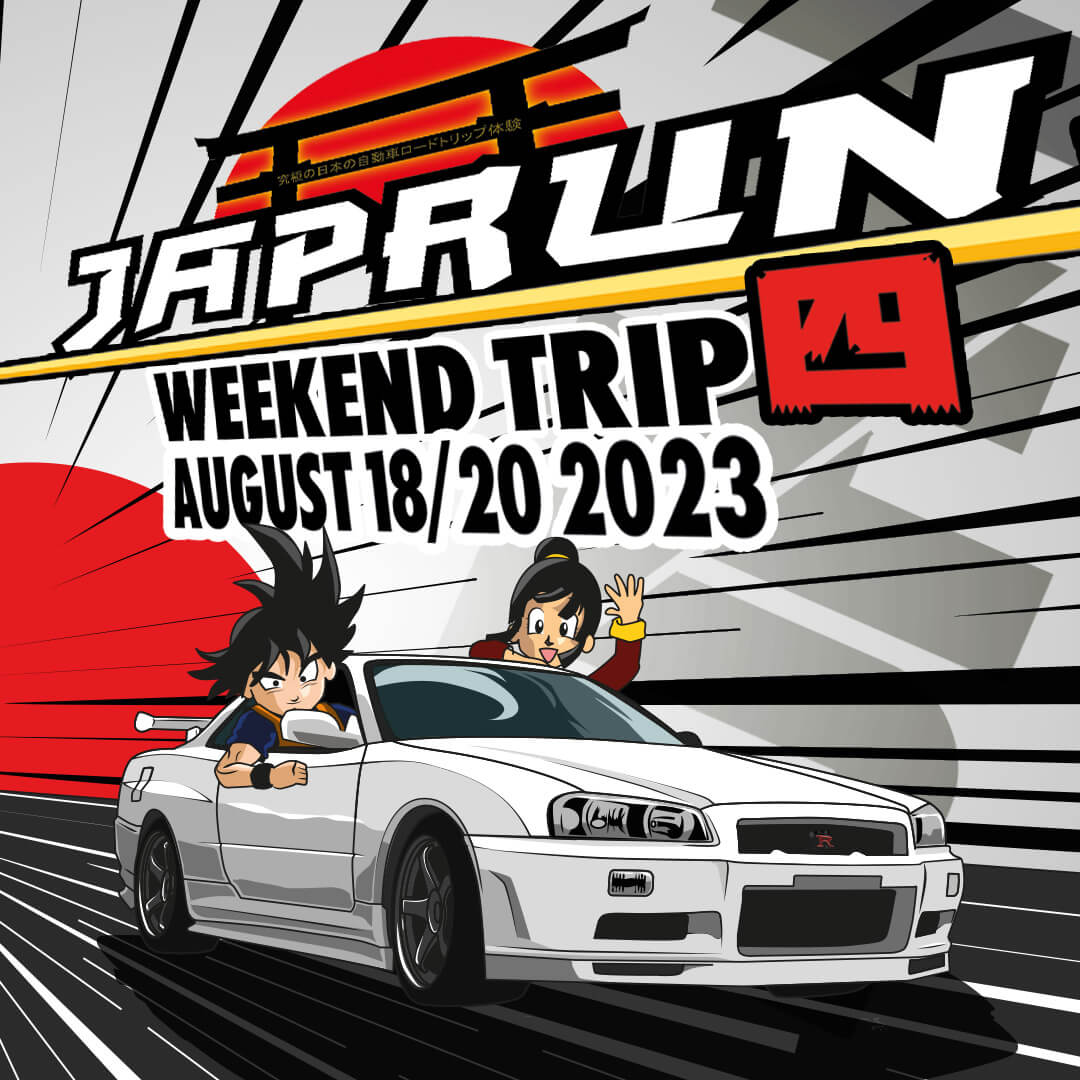 Must be screened and approved
Admission for 1 driver and 1 passenger only!
JAPRUN Weekendtrip ticket

EPIC CAR FAMILY
MEMBERSHIP
JAPRUN Weekendtrip ticket
Enjoy the many perks of the Epic Car Family

EXTRA PASSENGERS
NON-MEMBERS
Ticket for extra passenger next to the participating team
HONDA
INTEGRA DC2-DC5
NSX NA1-NA2-NC1
S2000-AP2
TYPE R FK2
TYPE R FK2
LEXUS
GS300-400-430
IS200-250-300
LC500
LFA
RC350
RCF
SC300-400-430
MAZDA/EUNOS
COSMO
RX2-3-4-5
RX7 SA-FB-FC-FD
RX8 SP-HP
MITSUBISHI
3000 GT-GTO
ECLIPSE GSX-GST
FTO
LANCER EVO I-X
LANCER X RALLIART
LEGNUM-GALANT VR4
STARION
NISSAN
CIMA
GLORA
GTR R35
LAUREL
PULSAR
S CHASSIS S12-S15
SKYLINE C10-110-210
SKYLINE R 30-34
STAGEA
Z-ZX MODELS
SUBARU
BRZ
FORESTER STI
IMPREZA 22B - TYPE R – P1
IMPREZA GTT-WRX-STI
LEGACY B4 (TWINTURBO)
SUZUKI
ALTO WORKS
CAPUCCINO
TOYOTA
ALTEZZA
ARISTO
BB
CELICA/SUPRA A40-50-60
CELICA GT-FOUR
COROLLA TE-AE MODELS
CROWN ATHLETE-MAJESTA
GR YARIS
GT-GR86
JZX MODELS
MR2 TURBO
SOARER
STARLET GT TURBO – GLANZA
SUPRA MKIII-V
To guarantee your spot at this event you must buy a participation ticket as a non-member or Epic Car Family member. Your participation is as a team (which means 1 car included driver and additional 1 co-driver) and more co-drivers are able to join with the "extra passenger" ticket. On this page you will also find a basic setup of our vehicle classes. This setup gives a view of the cars we allow for this event. When you sign in for participation you'll also have to register which vehicle you want to sign in for your team. Any other info apart from this page about the event will be given after registration and payment for event.
A few rules for participants:
Absolutely NO burnout's will be permitted on the locations! If so, you will lose all access and will be removed from further participation on the event!
NO DRIVING UNDER THE INFLUENCE OF ALCOHOL OR DRUGS!
LOCATION WILL BE EMAILED AFTER REGISTRATION
Get the latest updates by subscribing to our newsletter!